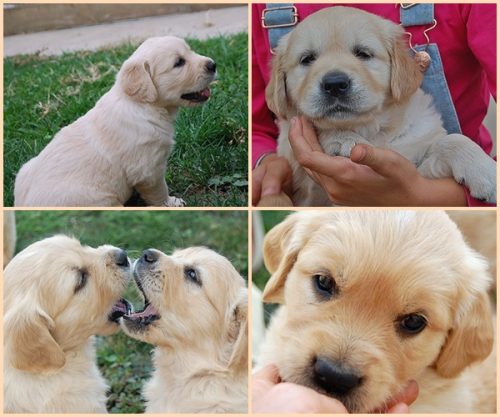 No puppies expected until late 2023
I go to considerable time and effort to plan a litter. Usually when I breed, I am doing so to keep one myself. Therefore I select prospective parents who have great

temperaments

, are excellent examples of breed type and have passed all the relevant hereditary DNA testing available here in NZ. All of my breeding stock is hip/elbow x-rayed/scored and have annual eye tests by a registered Ophthalmologist.
I place great importance on my puppies going to family homes, where they are part of family life. This includes a requirement that the puppy lives in the house, as proper socialization is necessary, for a well-behaved dog. And the property must be completely dog proof fenced.
My Puppies are born in my house and stay there for the first  4 weeks. This means they have lots of social interaction with people and general household happenings.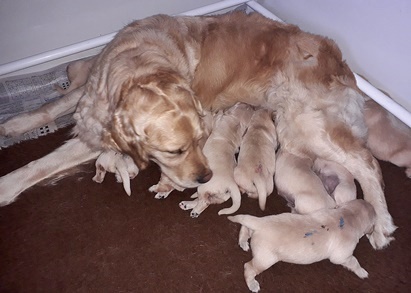 Then they are moved out to my dedicated puppy area.
Here they are free to wander in and out in a larger area that is easy to clean. 
They have 24 hour access to a grassed play area where they can tumble and play and explore.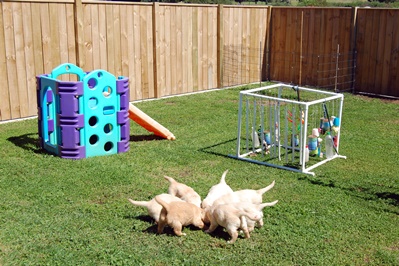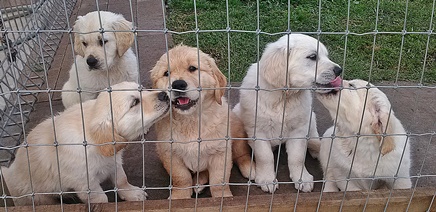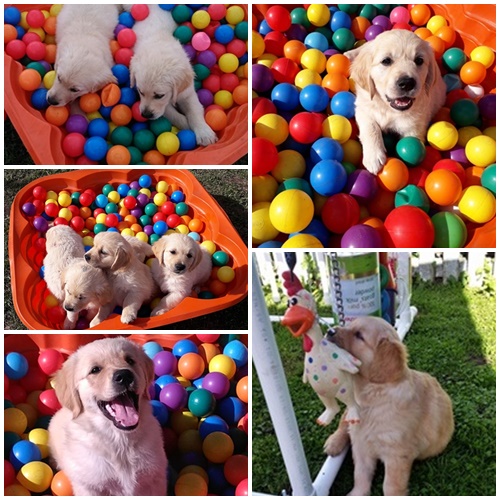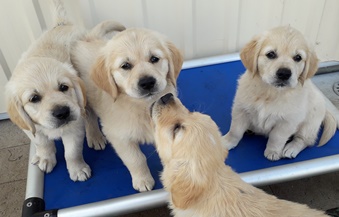 I feel strongly that puppies grow best on a natural diet, consisting of a variety raw meats/offal and vegetables/fruit and raw meaty bones. For more details on this way of feeding, please go to the page headed Natural Feeding.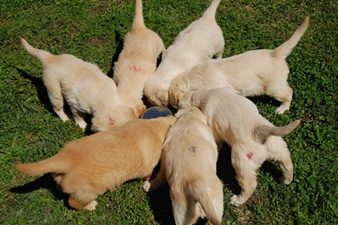 If you find this type of feeding is not viable then please research prepared foods suitable to feed to "Large breed puppies" and feed the best you can afford! Please stay away from "Grain Free" options .  I am happy to advise on suitable foods.  Money spent now, giving your puppy a good balanced diet, will repay you in the future with a much healthier dog.
Spay/Neuter age

.

My advice is to wait until your bitch has had at least one season, before spaying. Golden Retriever Males are usually well mannered and clean if house trained and given good basic obedience from an early age. Therefore early neutering is not required and in fact can have many negative effects on large breed dogs. But please do not neuter your boy before 18months of age.
For information on early spay/neuter Risks and Benefits please click on this link

.
Early Spay/Neuter
:

https://www.ucdavis.edu/news/golden-retriever-study-suggests-neutering-affects-dog-health
Toilet training/Crate Training

:

I believe that using a crate or pen is an ideal way to limit damage to your house/puppy when you are not able to supervise your puppy. The added benefit is the puppy has a safe area to rest/sleep and it makes toilet training much easier. For details on how to "Crate Train" your puppy please go to   

 Crate Training
Basic Training

:

Most Vet practices  now have puppy playschools/kindergartens where you can go for early training and socializing your puppy. Be sure to book your puppy in early.  Time spent teaching your puppy to walk on the lead nicely, at an early age, will mean you have a well mannered pup, that is a pleasure to walk. Start as you mean to go on and do not allow your puppy onto furniture or to jump up at people.
For continuing your  good manners training for your puppy, you can check out Dog Training classes in your local area by going to the DogsNZ website.