Presents
Hodge/Scarlett Pups
Aust Ch BISS Larbellah Team Leader
Dam: Ch Keridale Scarlett O'Hara
Whelped: 29/11/17
Keridale Goldens are very excited to announce the safe arrival of these fabulous puppies. I look forward to sharing the progress photos with you all.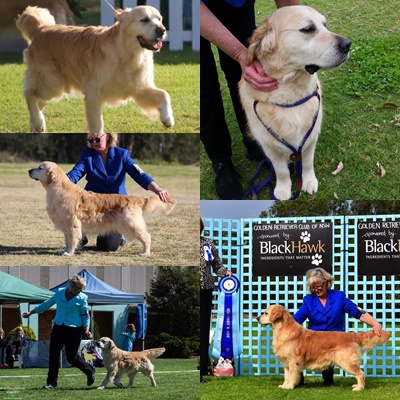 BISS Aust Ch Larbellah Team Leader "Hodge"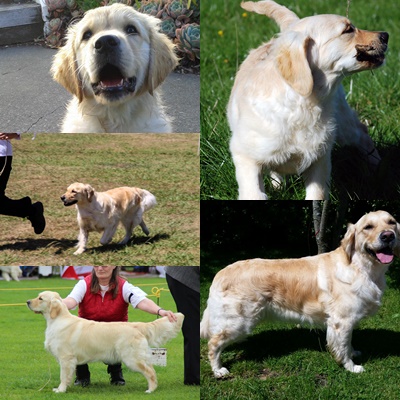 Ch Keridale Scarlett O'Hara  "Scarlett"
——————————————————————————————–
And today (26th Jan) the first baby winged her way to her new home in Auckland. Bit sad to see her go but I know she has a wonderful home and will have a great life. Farewell sweet Isabel. First born girl and always first into everything, now first to go.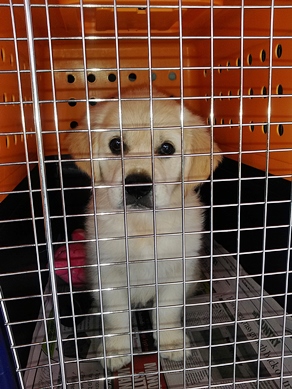 —————————————————————————
More visitors this week!! Pups just exercising their teeth on fingers and clothes now!!!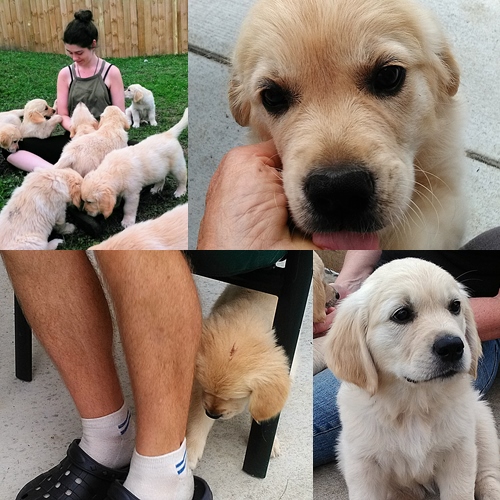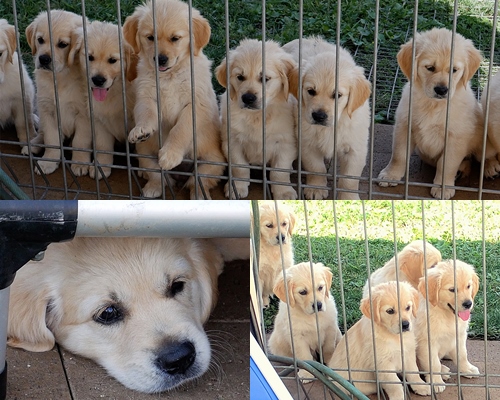 ————————————————————————————
Pups nearly 8 weeks now. Scarlett gave them their last feed tonight!!  Not much room at the milkbar now. She has been a brilliant Mum all the way through.  Very cute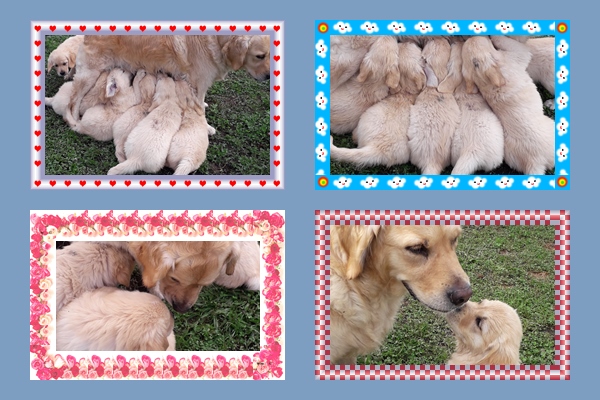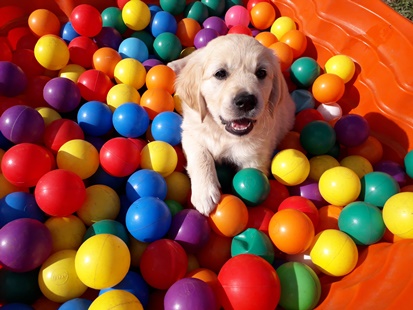 ——————————————-
Well I was extremely fortunate to have a "Real" photographer here yesterday to take some shots of the pups. I have put them in the dropbox folder like before so click on the link below and you should see them. Below is a taste of what to expect.
Pups are doing really well, on 3 meat meals a day now and 2 feeds from Scarlett but she is "winding down" her milk production so it wont be long before they are fully weaned.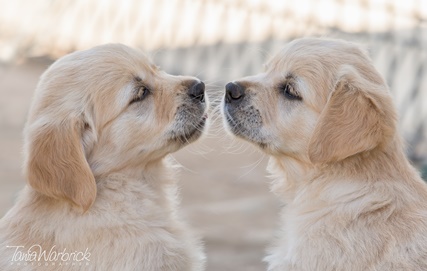 —————————————————————–
Well babies are now 6 weeks old!! How fast has that gone???
I got some lovely photos today of their first "close up" experience with Blondie their "Auntie" . She was very gentle with them. Tried to get into their play equipment!! but doesn't really fit!! Lovely to have my grand daughter here as helper/puppy cuddler!!!
More photos on this link below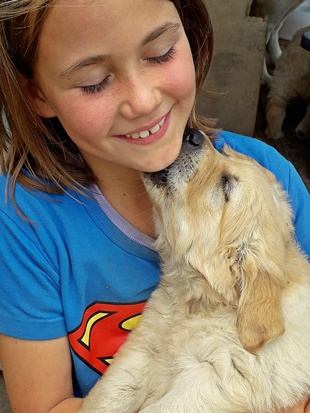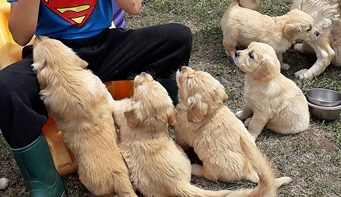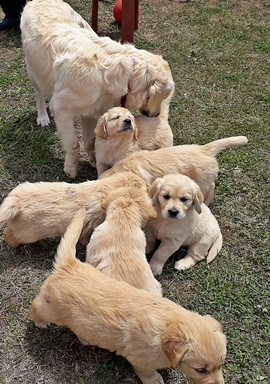 ———————————————————
Pups have had some lovely sessions with visitors recently. All helps the socializing! and who can resist a gorgeous Goldie pup!!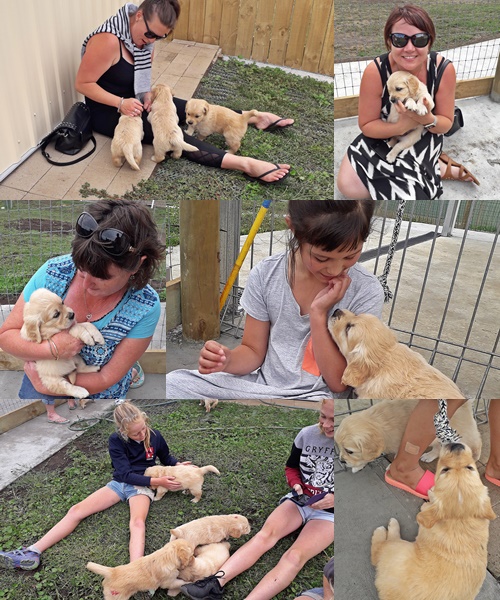 ———————————————————————————-
Pups 5 weeks old now and have progressed to individual bowls in a combined feeder so I know they are all getting sufficient food! Still get some who think someone else's bowl might have some left. Fat chance!!!!
Blondie their big cousin absolutely adores them and spends time outside their pen playing! She is too big to play with them just yet but enjoys showing them her big white teeth. It is all in fun though. The pups love her too!!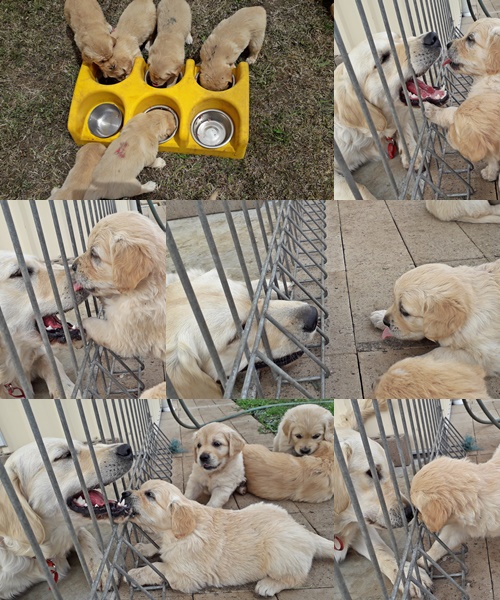 This is my view from my kitchen window!! I can watch pups playing.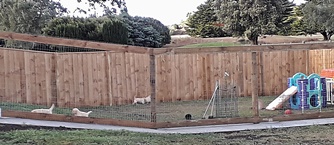 ———————————————————————–
Happy New year to you all!!  I've been busy playing with pups and took the big camera out today!! What can I say?? Too many cute photos to upload so I putting a link to the Dropbox folder so hopefully you can all see all the photos!!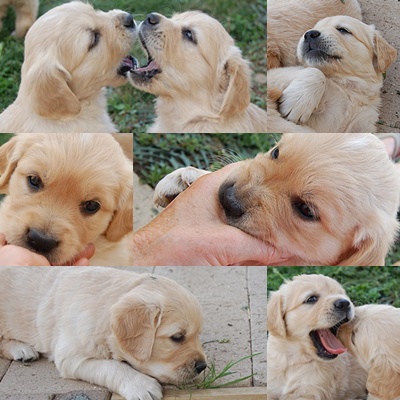 —————————————-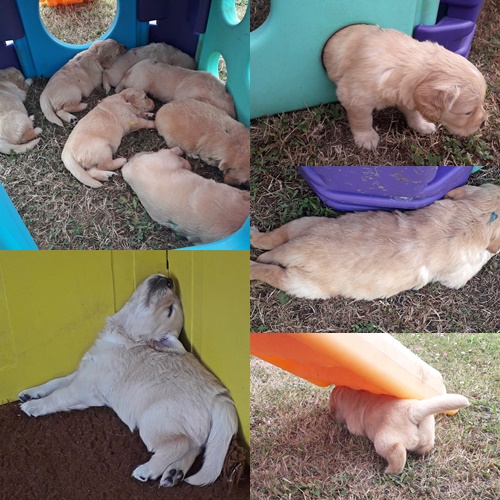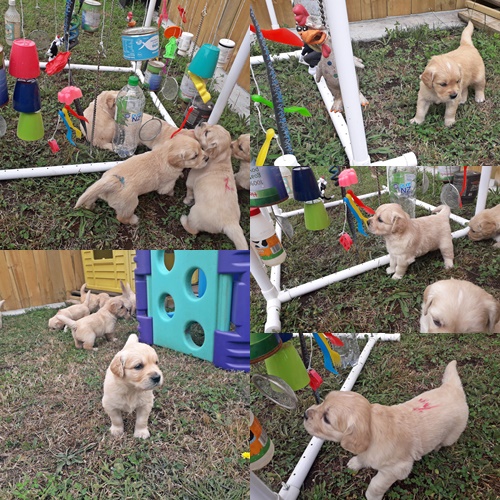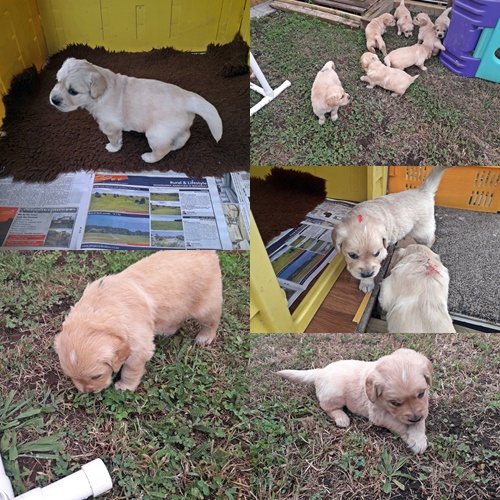 26/12/17 and pups have moved to their outside yard/play area. They were ready for the move and checked out the Adventure play box and grass then crashed for a sleep!!
!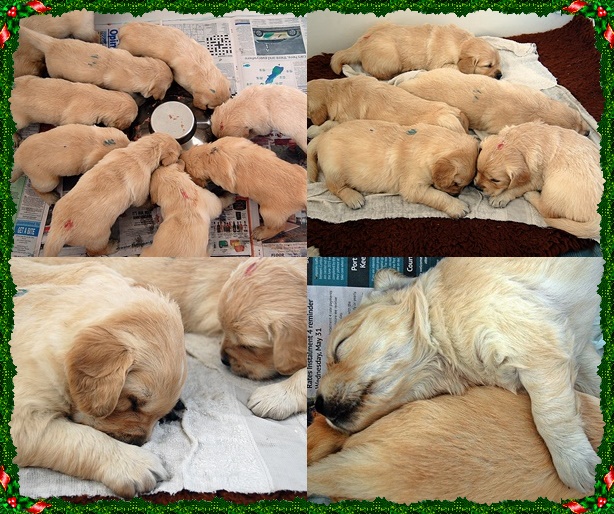 Merry Xmas everyone, Quite hot here in Wangavegus already so pups cooling off on wet towels!!  and eating their dinner last night!
—————————————————–
videos taken after dinner tonight , (24/12/17)  Some are ready for sleep, some are not! and some have an eye on escaping soon !!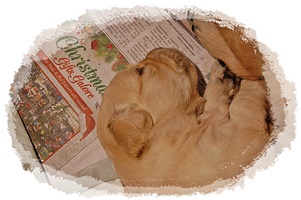 Didn't realize pup was sleeping on the Christmas paper!!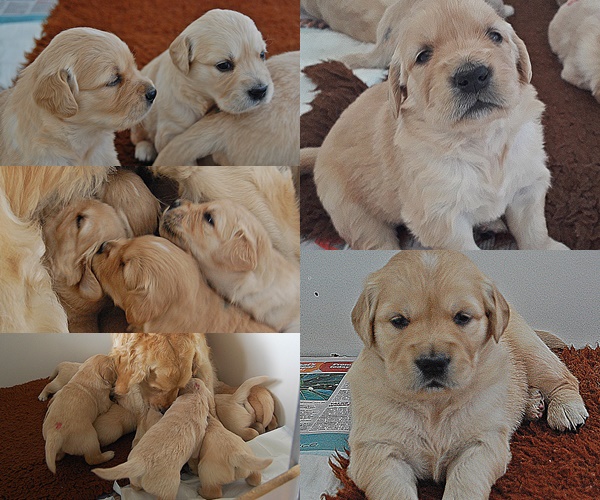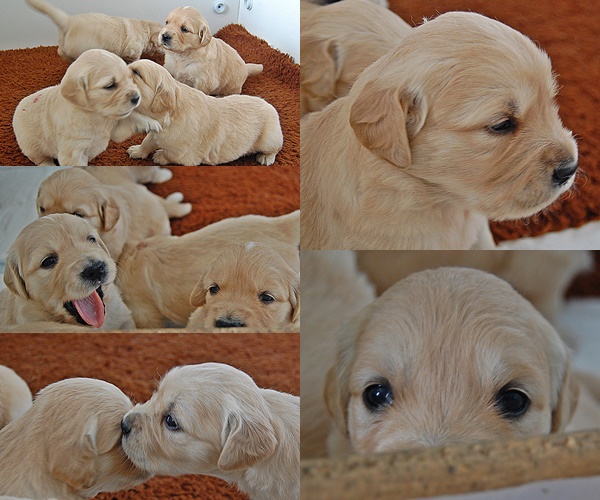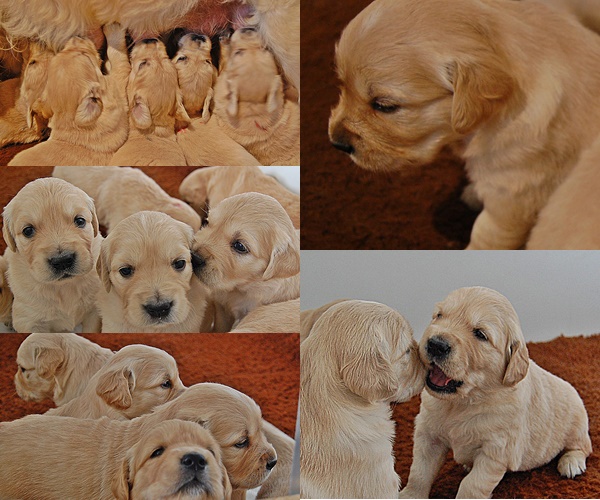 Ok I got my proper camera out as I wasn't happy with the photos from my phone in reduced light. They do have their limitations
———————————————————————————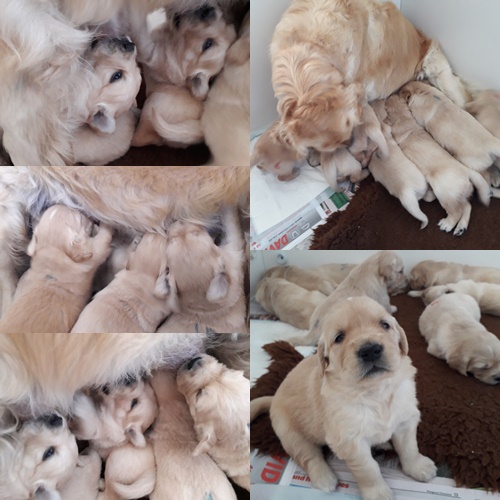 3 weeks old and getting more mobile and even starting to bark!!! Cheeky things. Big kids now they now drink standing up!!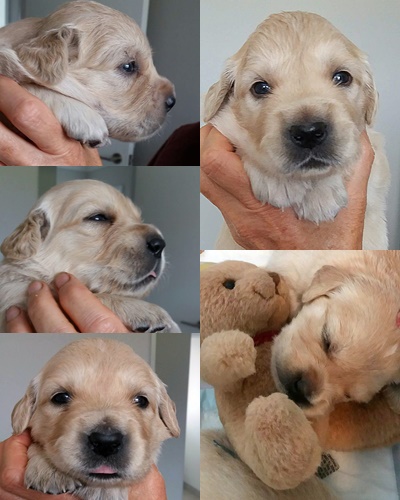 2.5 weeks old and more awake now (mostly) but helps to have someone else to take photos too!!!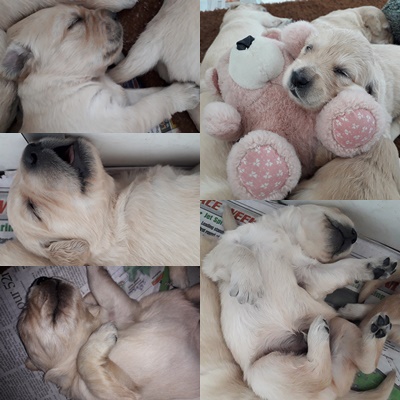 Still more sleeping photos but they are soo cute!!
————————————————————————-
2 week old videos click on the links below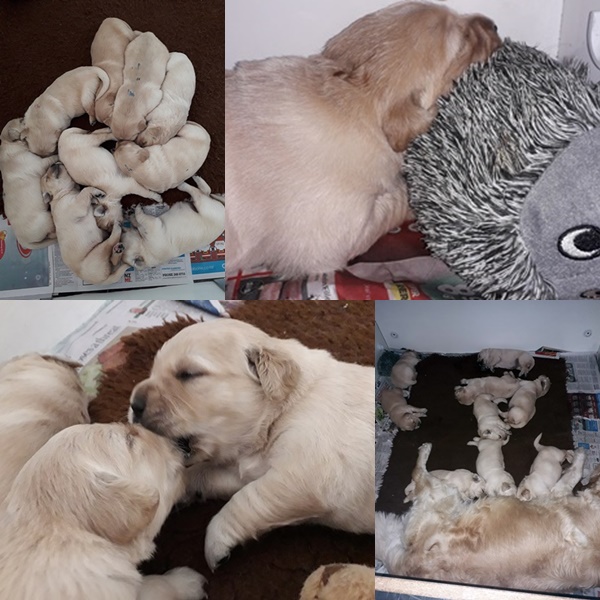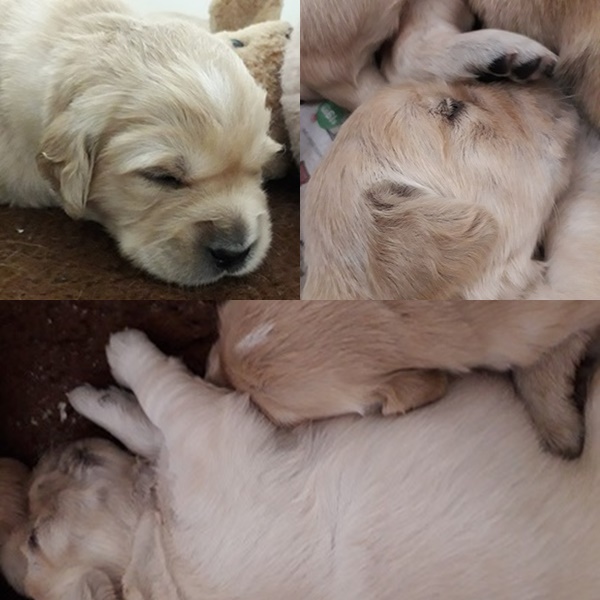 Pups now 2 weeks old and starting to toddle around on wobbly legs. Also vocalizing!! They still sleep most of the time though. I will also post links to a couple of video's I took of them at 2 weeks.
———————————————————————————–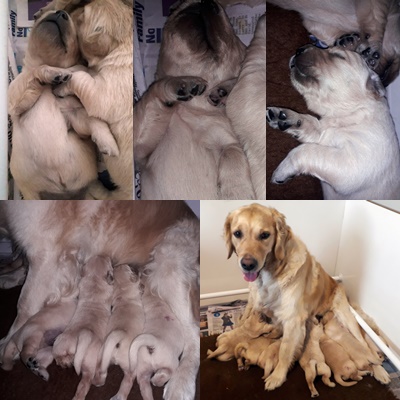 Day 11  Pups sleep in the most unusual positions!! And Scarlett with her "Skirt" of puppies feeding.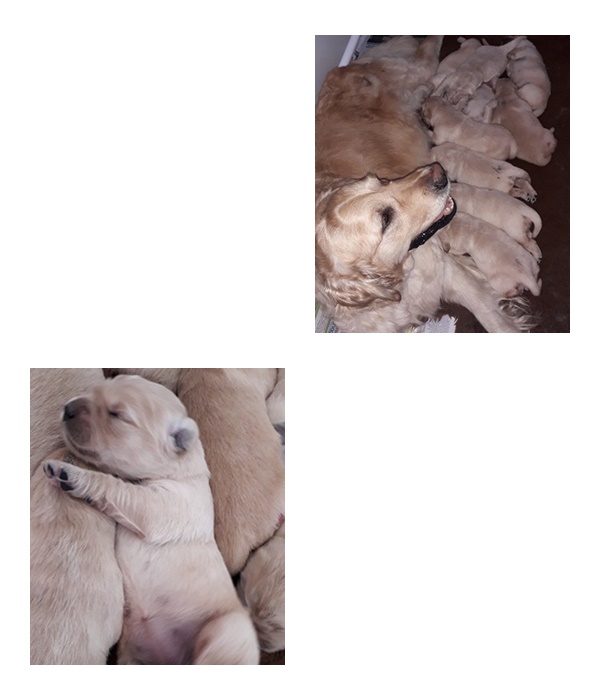 ——————————————————————————-
9 Days and just starting to see eyes opening a wee bit but not in these pics!! Hope to get more in the next couple of days.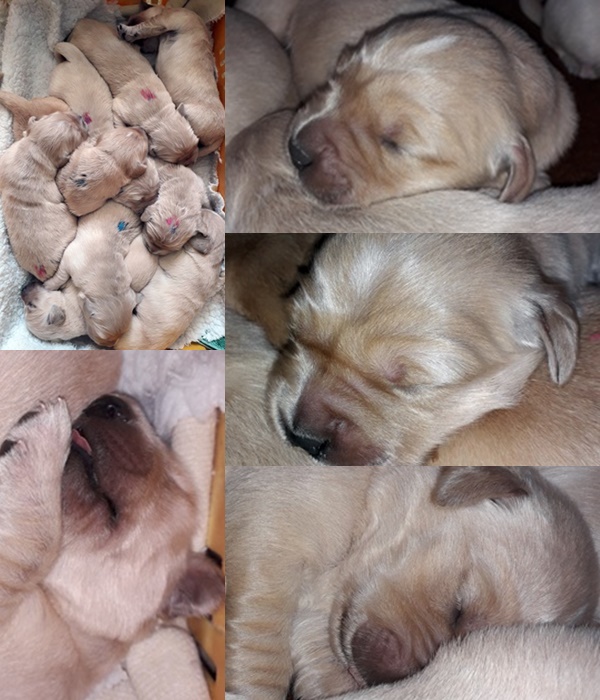 1 week old bundle of Cuteness. Still sleeping and drinking 24/7- Babies had their 1 week weigh in and all have almost doubled their birth weights!! Nails clipped also.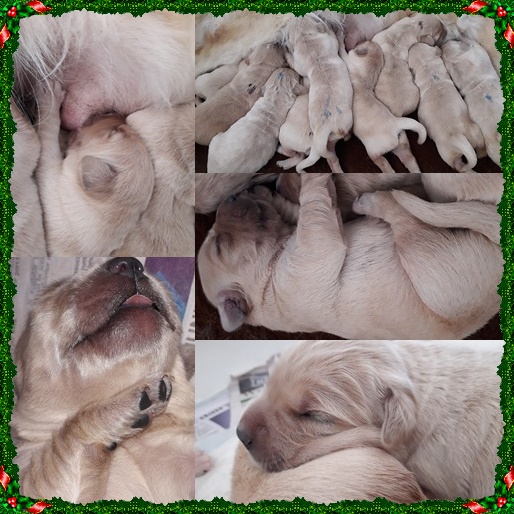 Collage of babies taken today (Day 6) They still just drink and sleep but are growing fast and can really move around when the milk bar is "Open"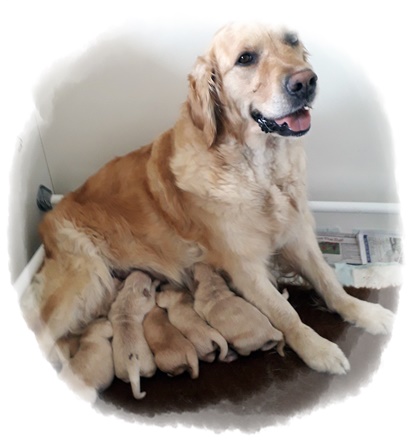 Pups and Scarlett 4 days old. All going well. Scarlett doing a grand job and relaxed enough to feed them sitting up sometimes!!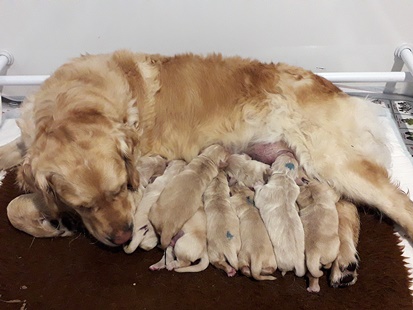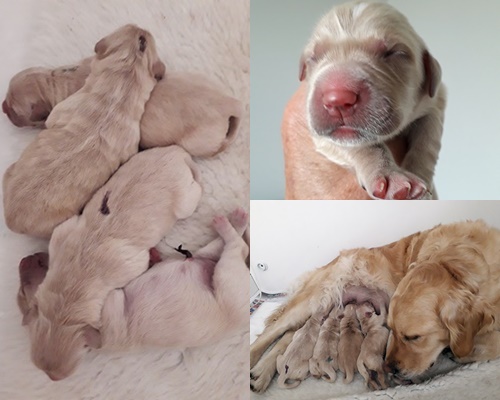 Pedigree

Parents

Grand Parents

Great Grand Parents

SIRE

Aust Ch BISS Larbellah Team Leader

 Aust & NZ Ch Acacian Special Event

Avonbreeze McLeod

Beaucroft Madonna

MBISS Aust CH Giltedge Angel Dust

Aust & NZ Ch Standfast Dream Ticket from Kerrien

Yellowfetch Pixie Dust CCD

DAM

 Ch Keridale Scarlett O'Hara

Ch Bournbeau Xcalibur at Keridale

Ch Giltedge Blackwatch

Beaunbeau Judd'sHill NRD

Keridale Isabella

Ch Keridale Olympic Gold

Ch Village Maiden at Keridale