Presents
Ch Village Maiden at Keridale
Sire: CH  Speyside Double Scotch
Dam: Keridale Andromeda

DOB  27/5/07- 25/4/2022
Hips 5_4=9   Elbows 0:0
 Eyes Clear May 2016
Pra1 & Pra2 – Clear, PRCD-PRA Clear, DM – Clear,
MD- Clear,   Ichthyosis- Carrier
Maddie was  proudly co-owned by Pat Munro of Speyside Golden Retrievers
9 CC's  – 13 Res CC's
The most gentle girl and wonderful mum to her kids, RIP Maddie!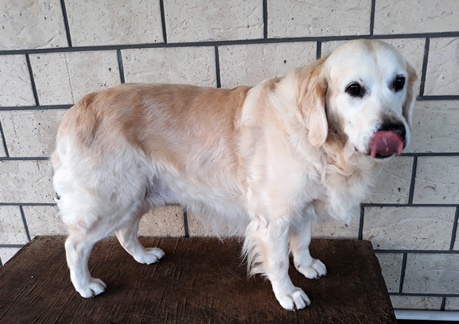 Maddie 11 years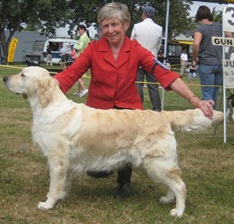 Maddie 5 years

 Maddie 2.5 years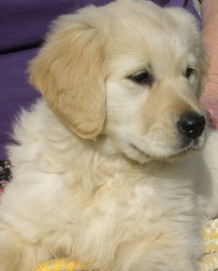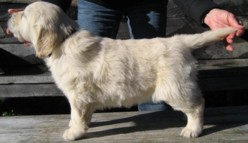 Maddie has proven to be my biggest winner yet.  A delightful young lady who is now a NZ champion. Maddie has produced some lovely puppies .
17/3/12 Wanganui KS  Judge  Mrs P Suhr (AUST)  BOB BCC
18/2/12 Horowhenua KA Judge  Mariko Harassa (Japan) ROB

CC no 8
30/1/12 Northland K A Judge Mr G Kerr (QLD) ROB

CC (no 7)
13/2/11    Horowhenua KA Judge Mrs Denise Grace, Res of breed and 

6th CC
21/11/10   Wairarapa KA   Judge Mrs P Carpenter (Qld) 

5th CC 

Best NZ Bred Gundog
7/3/10 Central Hawkes Bay Allbreeds Show Res Gundog, Bob and her 4th CC-Judge Gail Forsythe (Canada)
24/10/09 Golden Retriever Club Champ Show- RCC, Intermediate in Show –Judge- Patsy Hollings (UK) Critique"Caught my eye from the moment she entered the ring and did nothing to disappoint me when going over her. Copy book in construction, in lovely condition and beautiful coat, handled to advantage. Maybe could have had the CC with a little more impulsion but she is so true coming and going with an easy open side gait that she will deserved the RCC"
3rd Oct 2009-  Central Golden Retriever Club Champ show-RCC, Intermediate in Show-Judge – Rose Eastern (Montego Goldens NSW)
March 14th 2009 -Wanganui Gundog Show Society -Best Junior in Show March 14th 2009 Maddie wins Res of Breed, Bitch CC and Best Junior Gundog- Judge Mr Gary Doyle (CHCH)
March 8th 2009 -Hamilton Allbreed Champ show- Maddie wins her 2nd CC judge Mr Harbin(NSW)
March 7th 2009 -Hamilton Allbreed Champ show-Maddie wins Best of Breed and her 1st Challenge Plus Best Junior Gundog . Judge Mrs D Harbin(NSW) 
Feb 22nd 2009 -CGRC Champ -Maddie wins Reserve Bitch, Reserve Best In show at the  Judge Mrs Lyn Watson, (Vic Aust)Critique "Lovely type, beautifully balanced and sound. A classic golden bitch with correct angulation both ends. A lot to like about her"
3/02/08 Champ CGRC Wayne Pearson(Melb) Minor in show,
2/2/08 Champ CGRC Jill Pearson, 2nd Minor bitch, Critique "Another pretty bitch with a very balanced outline. Feminine head of good proportions, dark eyes and pigment. Good strength of neck, just preferred the front assembly on first placegetter. level topline, good rear quarters. Excellent bone and tight feet. Moved truly"
18/11/07 Wairarapa KA Mrs C Davis (Nsw) Baby Puppy Gundog
28/10/07 Waitemata Gundog Jock Mackay (UK) Baby in Show!!
 17/11/07 Wairarapa KA Eva Ekstam (NZ) Baby Puppy In Show!
2/9/07  GRC 2nd Baby Bitch(First show) Judge Henric Frykstrand (Dewmist Goldens Sweden) Critique "Very sweet, lovely head, beautifully balanced, lovely bone and feet. Excellent body and topline, strong quarters, true mover. One for the future"

Pedigree of " Village Maiden at Keridale"

Parents

GrandParents

GreatGrandParents

SIRE

Ch Speyside Double Scotch      

 

Aust Gr ch Nz Ch Dykinta Grand Slam

 Rainscourt Auld Lang Syne

Perrecca True Love

Ch Speyside Under Cover Lover

NZ Ch Islavale Solar Quest (imp UK)

Rainscourt Isle of Dreams at Islavale

DAM

Keridale Andromeda

NZ Ch Kerriedale Ice Magic

Ch Glentreve Frozen Asset (AI)

Casadeoro O What a Shelby

Ch Arangold Made to Measure

Ch Arangold Primo Classico

Ch Arangold Crystal Clear